REGENERATIVE LEADERSHIP
3-day retreat in nature, May 23-25 in Sweden (2 nights 3 days)
Our current times call for a radical new regenerative leadership paradigm. One that cultivates both inner and outer sustainability within ourselves as leaders and our organisations as agile living systems that seek a life-affirming thriving future. Our time calls for leaders who understand how to access their inner creative potential, the innate wisdom of life all around us, and dare to blaze new trails and carve out new ways of leading while dealing with systemic challenges.
This retreat is dedicated to cultivate and inspire these leaders.
A new breed of leaders for a thriving world.
Look deep into nature and then you will understand everything better
THEMES
- The elements of a new regenerative leadership paradigm and how to cultivate thriving leaders and organisations
- Systems-thinking, conscious leadership and regenerative business
- What leaders can learn from the logic of living systems and how to apply this into ways of leading and living
- The wisdom of nature and how to tap into this to nourish a future-fit mind-set and culture
FORMAT
The days will be a blend of workshop masterclasses, knowledge-sharing, guided nature immersions, embodiment activities, deep listening, silence and journaling. This is all designed to guide participants into a transformative leadership paradigm. Specific reading material will be provided pre and post retreat.
THE REGENERATIVE LEADERSHIP RETREAT IS PERFECT FOR
- Leaders from all walks of life who feel called to understand and explore how to tap into and nurture their own inner creativity and life-force, as well as the innate magnificence of life
- Leaders who know in their hearts that a new level of consciousness is now required for the challenges now upon us
- Senior managers, executives, practitioners, edge-walkers, strategists, thought-leaders, cultural creatives, pioneers and entrepreneurs who desire a new dimension for their work
YOU WILL LEAVE WITH
New inspiration, energy and insight into regenerative future-fit leadership, practical skills to tap into the creative wisdom of nature, and a deeper awareness of how everything is interconnected, and what this all means for how we lead and operate not just thriving future-fit organisations but also the way we live our lives as purposeful human beings.
3 key pillars will guide us through the learning journey:
True leaders of today understand that we're all part of an interconnected web of intelligence rooted in nature - they dare go out into the wilderness alone to explore the depths of nature and the depths of themselves to show up with strength and compassion to lead thriving organizations inspired by natures fascinating regenerative principles.
Creativity is stated one of the most critical skills to cultivate for all leaders (World Economic Forum's Future of Jobs report, 2016). Today Leaders need more than ever the ability to tap into their creative lifeforce and encourage a creative approach to design and systems-thinking to thrive.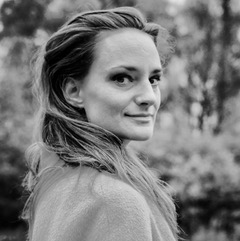 Laura Storm
Laura has spent her entire career working in the intersection between business, sustainability and innovation. She has started and led multiple international organizations - including Sustainia - and has been awarded the title "Worldchanger" by Greenbiz and is selected by the World Economic Forum as a Young Global Leader and Sustainability Expert.
Price:
The price is €2500 and includes the following:
Knowledge & Inspiration
A 3-step learning journey through the 3 Retreat themes on Consciousness, Creativity & Leadership
3 workshops on insights about natures intelligence in organizations and design
3 Shamanistic-inspired circles facilitated by Carina Lyall
Facilitated Nature immersions
Facilitated silence-elements
Meditations - in circle and in nature
A follow-up online workshop with facilitators and participants 3 months after the Regenerative Leadership retreat
A copy of Giles Hutchins book "The Nature of Business"
How to sign-up:
The 3-day Regenerative Leadership Retreat is for a small circle of 14 people.
We would like to ensure a diverse group and will therefore select the group by March 7. Please apply before March 1, 2018 by filling out the form below.
The breathtaking location deep into the Swedish nature:
Stedsans in the Woods
ølsdknvøsdlknvølsdkvnøldsnvølsdknvølsdknvøldsknvølsdknvølsdkNVØLsdknvølskdNVLØsdknvøldskNVØLsdknvølsdknvløskdNVØLskdnvølskdNVØldks
Giles Hutchins
Giles is a visionary thought leader and adviser on the future of business. Previously, Global Sustainability Director for Atos, and business transformation specialist with KPMG, he has helped transform a wide range of organizations (corporate, third sector, public sector and start-up) and is author of the books The Nature of Business, The Illusion of Separation and Future Fit.
Practicalities
2 nights in the breathtaking sustainable nature retreat centre Stedsans in the Woods in Sweden
All meals during your stay - including snacks
Transport to and from Copenhagen airport (we only arrange one pick-up in a mini-bus for all retreat guests leaving 10.30 am on May 23 from Copenhagen airport and arrive again 4pm on May 25 in the airport)
Carina Lyall
Carina was born amongst the Natives in Northern Canada and now living in Denmark, Carina Lyall has operated from Bosnia and Kosovo with the military to working with meditation and MBSR on home soil, eventually finding her calling within the field of women's circles, healing through story work, movement and the earth. Her main inspiration is nature, the elements and everyday rituals.